All Meeks, Watson & Company new carillons and chimes, and all of our carillon and chime renovations are installed by us, and in most cases, bells and equipment are transported direct from the foundry to the jobsite on our own vehicles. All such installations are made by our own technicians, and are under the direct supervision of one of the principals of the company, assuring you of the highest quality installation. Where hoisting must be provided inside the building, we can quote on providing that service. Where a crane will be used, we will work closely with your crane contractor to plan and execute the hoisting of the bells.
| | |
| --- | --- |
| | |
| Bells of a carillon return for reinstallation on one of our trailers | A new carillon keyboard and other equipment and tools loaded in one of our enclosed trailers to deliver to the jobsite |
| | |
| Bells of a renovated carillon are hoisted into the tower under the direction of MW technicians | Bells of a new carillon are installed in their frame |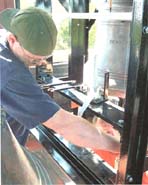 Meeks Watson technicians assemble a radial carillon action
For peals and single bells, we generally will quote on delivery of the bell or bells to the jobsite, accompanied by one of our experienced bell hangers, to work with your contractor to insure the correct installation, and to perform on-site adjustment to put your bell or bells in perfect ringing order.
| | |
| --- | --- |
| | |
| A large new bell being loaded for transport to the church | A 4000 lb. tuned and refitted bell is hoisted into position in a new church tower under the supervision of one of our expert bell hangers |

For smaller single bells or peals, we can often save cost for the more distant customers, by pre-adjusting the bells, and shipping them fully assembled on pallets by motor freight; in those cases, with the instructions we furnish, your local contractor can hoist and fix the bells into position without difficulty.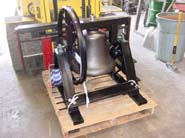 A smaller single bell complete ready for shipment on a pallet
" We Service What We Sell", but we do much more than that...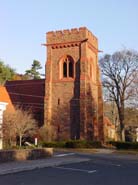 Simsbury United Methodist Church, Simsbury, Connecticut

Meeks, Watson & Company service is available in all sections of North America. We provide expert service, repairs and adjustments, and concert regulation for carillons and chimes for instruments not only by our firm, but by all other makers, historic or current. Besides American-made instruments, we have very extensive experience working on both English and Continental carillons and chimes.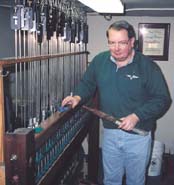 A Meeks Watson carillon technician installing a new key spreader assembly
A small selection of examples of instruments serviced recently follows:
Norwich University, Northfield (Michiels/Paccard)
Texas Tech University, Lubbock (Whitechapel/Paccard/Meeks,Watson)
Alfred University (Michiels/Michaux/Dumery/Petit & Fritsen/Meeks, Watson)
First Presbyterian Church, Gastonia (Eijsbouts)
The Mercersburg Academy, Mercersburg (Gillett & Johnston/Meeks, Watson)
Christ Church Cranbrook , Bloomfield Hills(Taylor/Meeks, Watson)
Baker Park, Frederick (Meneely/Eijsbouts/Petit & Fritsen)
First Church of Christ, West Hartford (Whitechapel)
Yale University, New Haven (John Taylor & Co.)
University of California, Santa Barbara (Petit & Fritsen)
Cathedral of the Advent, Birmingham (Paccard)
Trinity United Church of Christ, Newtown (Meneely/Petit & Fritsen)